MAPPILAPARAMBIL FAMILY
"Strength comes from togetherness —
The benefit of it is beyond imagination!!"
A Brief History
Mappilaparambil Family has its origin from St. Thomas, the Apostle. At the command of Jesus the Apostle started for India and landed at Maliankara near Moothakunnam village in Paravoor Thaluk in AD 52. He founded the churches popularly known as 'Ezharappallikal', meaning seven and half churches. These churches are at Kodungallur, Kollam, (Quilon) Niranam, Nilackal (Chayal), Kokkamangalam, Kottakkayal (Paravoor), Palayoor (Chattukulangara) and Thiruvithamkode — the half church. This is the beginning of the Syro-Malabar Church  and in which we all Mappilaparambil family belongs to.
Among those whom the Apostle converted to Christianity at Kollam were some Brahmins. Around AD 600, due to a cyclone, parts of Kollam went under water. Hence the people there, including Christians ran for safety to Thevalakkara, a village near the Lake of Ashtamudi and settled there. These Christian families were known as Thevalakkara.
Anizham Thirunal Marthanda Varma Maharaja (King), ruled Travancore from AD 1706-1758. (Travancore merged with the other Malayalam-speaking state of Cochin on July 1, 1949 to form Travancore-Cochin, and later with the Malabar district of Madras State on November 1, 1956 to form the south Indian state of Kerala.) The King's mother had an acute pain in her eyes and the palace doctors and other famous ones couldn't help to ease it. The King heard about the famous doctors of the Thevalakkara family. He ordered that Dr.Thomman, the prominent among them, be brought to the palace to treat his mother. Dr.Thomman successfully treated the queen and eased the pain in her eye.
Needless to say, that King was greatly pleased with Dr.Thomman. He honored him with the title "Vaidyan." This Thomman Vaidyan is our great, great, great, … grandfather. The King gave the privilege to use this title to Thomman's descendants also. It is worth mentioning here that many of the descendants of Thomman Vaidyan do not use today the title, "Vaidyan." Yet, a few of them still proudly use it along with their name.
In these families at Thevalakkara there were also a few traveling "doctors" (vaidyans). The vaidyans traveled around and treated sick people at their homes. One of the descendants of Mr. Thomman Vaidyan was Koshy Vaidyan (Kora Vaidyan?) who treated sick people in the villages of Kalathoor, Vayala, Vempilly, Kalikavu, etc. He had two brothers Thomman Vaidyan and Mathai Vaidyan. (It would be helpful to know the tradition of giving the paternal grandfather's name to the first-born boy in every family.)
Among those Brahmins whom the Apostle baptized in and around Palayoor were the four famous families of Kalli, Kalikavu, Sankarapuri and Pakalomattam. Due to some social problems all those families traveled to the north and came to Kaduthuruthy and then moved to Ettumanoor in Kottayam District. The Devaswom authorities there advised them to settle in Kuravilangad. Later they spread out to the neighboring areas of Kalathoor, Vayala, Vempilly, Kalikavu, etc.
Mr. Varkey Kunnel, a descendant of Pakalomattam family, had settled in the northeastern part of Kalathoor. He was a wealthy farmer who led a very decent royal life. Though fourteen children were born to Varkey and his wife Mariam, thirteen of them died in infancy and only a lame girl named Kunjupennu survived. She had on her leg a wound that was not healed for a long time. The above-mentioned Koshy Vaidyan treated and completely healed the wound of Kunjupennu. The joy of the patient, the parents, and other family members including the neighbors was beyond all telling. Pleased with this, Mr. Kunnel Varkey gave his daughter Kunjupennu in marriage to Koshy Vaidyan. Her physical defect was nothing of importance compared to her noble character.
Koshy Vaidyan had four sons. One of them was a priest.Others settled in Mecherikkunnel Mulavinakkunnel and Parekkunnel reminding of the "Kunnel" family. One of the descendants of Koshy Vaidyan lived in Arissery. He had two sons Thomman and Devasia; the latter had only two daughters and moved to Ulikkal, near Iritty in Kannur District and the former had four sons, Thomman, Itty Mani, Mathai and Varkey. They lived in various locations at Kalathoor with the family names Edassery, Mappilaparambil, Tharapputhottyil and Kunnathukattil respectively.
A final note: Tracing the roots of all branches of the above ancestors is a difficult task due to lack of documentary evidences and correct information. So, in this Website, we are mapping out only the descendants of Mappilaparambil Itty Mani. We acknowledge that this itself may not be one hundred percent perfect. The computer literate members of our family could improve and update this site and can do so in cooperation with Savy Mappilaparambil, currently living in Skokie, near Chicago, USA. This site has been designed and hosted by him. If corrections and additions seem to be necessary please e-mail to savy@mappilaparambil.com. You can also e-mail questions and suggestions to: seby@mappilaparambil.com.
MAPPILAPARAMBIL - ITTY MANI
It is a fact  that we do not know very much about our ancestors. We know for certain that Mr. Itty Mani lived at Mappilaparambil at Kalathoor. He was very active for social causes in and around Kalathoor. At that time our parish was St. Mary's Forane Church Kuravilangad. Since Kuravilangad is 6 kilometers away from home and as there was no private or public trans-portation to go to church, Itty Mani along with other family members took the lead to get approval for a church at Kalathoor. The church which they built at Kalathoor was the fruit of their hard work and stood there for about a century. We all can be very proud of our ancestors whose   deep faith and hard work made a visible difference in and around Kalathoor.
      Mr. Itty Mani had three sons. They are:
 A. Mr. Avira, who later moved to Mukalel (Mappilaparambil)
 B. Mr. Ouseph, who moved to Uthirakkattayil and
C. Mr. Devasia who stayed at Mappilaparambil (Tharavadu)
A. Mr. Avira Mappilaparambil.
He married twice. In his first marriage he had two kids:
1. Mattahchan moved to Perumbumthadahil and
2. Rossamma was married to Poulo Kuzhimulloram
We have no further reliable information available about their descendants.
In his second marriage Avira had only one son: Mr. Emmanuel ( Mani).
Emmanuel (Mani) Mappilaparambil Family: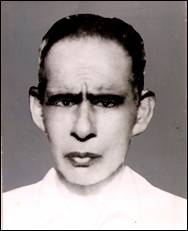 At Rest in His hands - July25, 1971
Mr. Emmanuel (Mani) Mappilaparambil stayed at Mukalel, Kalathoor. At the age of 16 he married Annamma Vadakkumukalayil who was then only 13years old. She was the daughter of Mr.Thomman and Mariyam from Kanjirathanam a neighboring village. Her only brother Mr. Thomas Vadakkumukalayil passed away in 1983. Emmanuel was a well-known person of his time. On those days he initiated lot of new projects to change the face of Kalathoor. One of his most appreciated accomplishments was buying a Bus for public transportation on Kottayam-Kothamangalam-Moonnar rout in early 1900. He also managed a cycle shop. He was an active parish member and served as Manager of the western section of St. Mary's parish church at Kalathoor.
Emmanuel and Annamma were blessed with eleven kids. But three of them left this world at an early age. The rest were four boys and for girls namely, Abraham (Kunju) Rosakutty, Mariyakutty, Thommachan, Jose, Eliyamma, Chinnamma, and Sebastian (Devasiachan). Kunju and Jose went to school at Kanjirathanam and Kuravilangad.
As many others of Kalathoor area at that period, in 1951 Emmanuel with his seven kids moved to Thekkumkara and then to Urokad in Trissur district looking for better opportunities and living conditions. Left behind was his oldest daughter Rosakutty who was married to Azhikannickal Poulose, a noble family member from Kudakkachira,Ramapuram. Aound 1954 Azhikannickal family also moved to Urokad and settled near to our "Tharavadu".
While at Thekkumkara, Jose and Devasiachan went to St. Xavier's Catholic School at Wadakancherry, which is about 4 km away from home. Those days, rain or shine, walking through narrow roads and paddy fields was the common mode of transportation to and from school. Since we were farmers others stayed back home to help in the field and in the household works. After completing 8th grade Jose didn't pursue further studies. He stayed home and worked hard along with others to acquire more property for us around our house in Urokad.
While staying Thekkumkara Abraham married Rossamma of Chulliyil family. Around 1956 he moved to Poomala, a nearby village where Mr. Thomas Pathyil, who was also one of the descendants of Itty Mani family, had already settled. Mariyakutty got married in 1958 to Mr. Ouseph Cheriyamparambil who was settled in Malaaka a close by village. The following year Thommachan married Aleykutty Kandassmkunnel from Ramapuram. Thommachan and Jose stayed with Kunju for about two years to help him to develop his property.
Devasiachan dropped out of St. Xavier's school at Wadakancherry due to practical difficulties such as walking alone 8 kilometers to and from school. But Mr. Thomas Pathyil encouraged him to continue the Lower Primary Education at Little Flower LPS at Poomala, which was, at that time, under his management and closer to his oldest brother's home. So Devasiachan stayed with his brother for an year and went to school which was in walking distance After completing LPS - up to 4th standard, he moved to Upper Primary School at Machad which is closer to home and studied their until the completion of 7th grade. On those days both of these schools had only up to 4th and 7th standard respectively. He continued his High school (8th, 9th and 10th standard) studies at St. Aloysius Elthuruth, a well-known high school in Trichur and graduated in 1965.
Meanwhile, Chinnamma got married to Ouseph Kochupurackal from Kothanalloor in 1961 and Jose married Mary Vattamattom from Bharananganam in 1963. Eliyamma remained unmarried and in 1973 she joined the Clarist convent as a lay sister (Thuna Sahodary). Since financial condition was not that sound, Devasiachan pursued his a two year course in Electrical Engineering, and earned his diploma in 1968.Thus he became the one and only graduated member of this branch of the Mappilaparambil family eligible to get an entry level salaried employment out side the traditional farm work.
B. Mr. Ouseph Mappilaparambil (Uthirakkattel Pappan)
He married Padinjarekkuttu Mariyamma and had seven kids:
1.Mr. Mani At Rest in His hands …(Photo ?)………………..
2. Mr.Kunjoutha (Joseph) At Rest in His hands (Photo ?)
3. Mr.Devasia (Kondookkala)  At Rest in His hands …(Photo)
4 Varkey - Passed away in young age
5. Rosa was married to Thomman Koonampurath
 6. Kocheli was married to (……..?) Vadakke Nellikkadu
 7. Mariyamma was married to Scaria Pattathekuzhy
(Need help to complete the above section as per shown format)
C. Mr.

Devasia

Mappilaparambil
Mr.
Devasia

stayed at

Tharavadu

. He married

Thresia

, the first-born girl of

Thommachan

and

Mariam

Maniyalaparambil

of

Knjirathanam

parish.

Thresia

was just 14 and

Devasia

16 when they got married. They had six children, four girls and two boys. They are:

            1.Kunjupennu (married to Mr. Kuttan Tharappel Kuzhikandam, Vempilly; later                                     moved to Attenganam, near Kanjhankad in Kannur Dt.). She had five                                    children: Alekkutty, Kunju Devasia, Theyyamma, Pappachan and Mary.

 

2. Mani At Rest in His hands July 22, 1992…………………(Photo)

            3. Mariyamma and Mani are twins. Mariyamma was married to Mr. Chacko                             Edassery,Vayala and had three children:Mariyakkutty, Theyyamma and                           John.

            4 Thresiamma (married to Mr. Kutty Pattathekuzhy, Kurianad; later moved to                                    Nedumkandam. Had four children: Pappachan, Kunju Devasia Kuttipennu                      and Kunjukunju.

            5. Kunjeli (married to Chaaluvelil family at Vadayar) had only child: Mary

.6. Thommachan At Rest in His hands, September 3, 2002 ……. (Photo)
Mr.

Mani (Kunju Mani)

Mappilaparambil
Mr. Mani, fondly known as Kunju Mani, was born in 1910 with a twin sister Mariyamma. He was blessed with a long life. He was a great farmer who always loved the soil and worked very hard. He produced gold from rock and soil. There is no one in our family equal to him in this regard. He was a very simple soul and loved everyone. He never discriminated between his children or other children. He cared for everyone of the family. He was always very healthy and had no sickness of any kind other than some minor health problems due to the old age. He died on July 22, 1997.
Mani first married Annamma, daughter of Mr. Mathachan Chamakkala, Athirambuzha. All the children born to Mani and Annamma, except Achamma died in infancy. Not much later Annamma also died. Achamma was married to Mr. Chackochan Uluthuvayil from Kudamaloor. She died with the delivery of her first child who also died after a few weeks.
Mr. Mani's second marriage was from Kanjirathanam. His wife was Aleykutty, the daughter of Moni and Kurian Vettickathadam. Though Mani and Alekutty had several children, only Thresiamma (Theyyamma), Annamma (Pennamma) and Sebastian (Babychan) survived. In spite of some old age problems, Aleykutty lives happily with her son Mr. Babychan
Ms. Thresiamma was born in 1946. After her High School studies, he studied nursing and midwifery and is employed in Health department of the Government of Kerala. She is married to Mr. Thomas (Baby) Panachimattathil, Kanjirappally. They have two girls: Darly who is computer scientist and Dice who is a nurse and works in Saudi.
Ms. Annamma did her bachelor studies. Even at that time she could not get a job. She was married to Mr. Joseph (Joy) Mattappillil, Mannarappara. They have one son, Jobins who is Diploma holder in Polytechnics. Since it was difficult to find a job, he is now doing his B.Sc. nursing. Mr. Joseph died in… due to a viral fever.
Mr. Sebastian (Babychan) Mappilaparambil
Mr. Babychan lives at Mukalel. Mukalel was where Mr. Avira and later his son Mr. Emmanuel Mappilaparambil lived. When Mr. Emmanuel sold it to move toThekkumkara in 1951 Mani and Thommachan Mappilaparambil bought the property. At the time of the division of the property between Kunju Mani and Thommachan, Mukalel was given to Kunju Mani. Mr. Babychan is self-employed. He takes care of his land and cultivation and also runs a goods taxi service.
Daisy, the daughter of Mr. Chandy and Mary Thekke Kandanattu of Kothanallor is the wife of Mr. Babychan. They have three children: Mani (Albin), Chandy (Alex) and Aley (Ammu). All three of them go to school.
Mr. Thomas Mappilaparambil
Mr. Thomas, known as Thommachan was born on July 22, 1917. He went to school at Athirampuzha and discontinued his studies after the sixth grade. He joined in the work force of his father and brother. After the division of the family property, Thommachan stayed at Mappilaparambil Tharavadu. With great dedication he served as trustee of St. Mary's parish, Kalathoor and later of Mar Sleeva (Holy Cross) church, Sleevapuram when he came under the jurisdiction of the newly erected parish.
Mr. Thommachan married Aleykkutty, the daughter of Mr. Souri and Catherine Kareethara, Udayanapuram, Vaikom. Both of them worked very hard to raise their kids. After being bed ridden for about two years Aleykkutty died on August 23, 2000 and Thommachan passed away on September 3, 2002. They were 78 and 84 years respectively when they died. They have six children, five boys and a girl. They are: Fr. Sebastian (Appachan), Xavier (Kuttappan), Thresiamma (Kuttiyamma), Mani (Kunju Kunju), Fr. Joseph (Ouseppachan) and Thomas Thomas (Thomachan).
Fr. Sebastian (Appachan) Mappilaparambil, VC
Fr. Sebastian born on September 9, 1946, joined the Vincentian Congregation, after his High School. He made his first profession on May 18, 1968 and final profession on May 18, 1971. He was ordained priest on December 18, 1973 and was appointed to various parishes/Vincentian Houses in various capacities, like Finance Officer, Estate Manager, Superior, Vicar (Parish Priest), and Principal of Colleges etc. While he was the Vicar (Pastor) St. Antony's Church Chengamanad, he also went to Union Christian College, Aluva (University of Kerala) and earned a bachelor degree in Psychology. While he was Principal of De Paul College Edathotty, Peravoor, he did his Masters in Sociology (University of Calicut).
In 1985, Fr. Sebastian went to the United States for study and work. He served there as the Mission Co-coordinator of the Vincentian Congregation for eight years. He got his M. Phil. and Ph.D. (Sociology) from the City University of New York in 1990 and 1993 respectively. While in USA he had the opportunity to visit several foreign countries. Fr. Sebastian returned to India in 1993 and served as Superior, Dean of Studies of the Vincentian Major Seminary, in the Administrative body of the Marymatha Province of the Vincentian Congregation, Principal of Colleges and Professor of Vincentian Minor Seminary and Pontifical Seminary, Aluva. In 2002 he also earned his B. Ed. from Bharathiya Siksha Parishath, Poona.
Fr. Sebastian was sent to the Mission diocese of Prince George, BC, Canada in 2003. In spite of the inclement weather like, long winter with a temperature from 0 to –40 degree Celsius, he worked there for about two and half years and moved to USA. He is now Associate Pastor of St. Joachim – St. John the Evangelist parish, Beacon, New York.
Mr. Xavier (Kuttappan) Mappilaparambil
Mr. Xavier was born on Sept 30, 1948. After his graduation, he taught in a tutorial college and then he got a job in the KSRTC. He retired from service as the Senior Superintendent. He married Marykkutty, daughter of Mr. Mathew and Annamma Memana of Kalathoor on April 7, 1980. She is H.S.A. at St. Agnes High School, Muttuchira. They live at south junction in Vempilly.
Mr. Xavier and Marykkutty have two girls and a boy. The eldest daughter Elizabeth (Smithamol) did her M. Sc. in Biochemistry and is now doing her M. Phil. Their second daughter Anne Therese (Sobhithamol) is a final year B. Sc. student at Deva Matha College, Kuravilangad and their youngest son Thomas (Tomichan) is a second year B.Com student at St. Thomas College, Pala.
Ms. Thresiamma (Kuttiyammam) was born in 1950. After her Pre-Degree course, she was married to Mr. Jose Kurian Vadakarayil of Muttuchira, but later they moved to Thiruvillwamala in the district of Trissur. They are blessed with three girls, Anne (Jobymol), Elizabeth (Joslyn) and Jincy (Tessymol). All three are nurses and works in Saudi, Ireland and Australia respectively.
Mr. Mani (Kunju Kunju) Mappilaparambil
Mani was born on November 23, 1953. After his High School he showed interest in farming. Like his uncle Kunju Mani, Kunju Kunju also is a real son of the soil. He is very hard-working. Farming is his hobby. He finds great pleasure in it. On July 4, 1982 he married Marykkutty, daughter of Mr. Devasia and Mariyamma Parasseril of Kuravilangad parish.
Kunjukunju and Marykkutty live at Mappilaparambil Tharavadu and they have a girl and a boy – Elizabeth (Preethymol) and Thomas (Prince). Preethymol is doing her M.Sc. (final year) Chemistry at Amalagiri College and Prince his B.Com. second year at Devamatha College Kuravilangad.
Fr. Joseph (Ouseppachan) Mappilaparambil, CMF
Born on August 28, 1956, Fr. Joseph after his High School studies joined the Claritian Congregation in 1972. He made his first profession in 1976 and final profession in 1982. His seminary studies were at Kuravilangad and Bangalore. He was ordained on April 14, 1983. After one year of pastoral work at Edoor, in the district of Kannur, he went as the first Claritian missionary to open the North-East Mission for the Claritians and worked very hard there for seven years, most of the times alone.
Fr. Joseph was then sent to the United States for further studies. He did his M.A. in Union Theological Seminary, Chicago. Returned to India in 1994, he was appointed Rector of their Major Seminary in Shillong. In addition to that he was also appointed Delegate of the North-East Claritian Mission. All the time he was also teaching Missiology in Oriens Seminary. After another seven years he was appointed Rector of the Claritian Minor Seminary Umsing in Meghalaya. He is now in Bangalore doing his Ph. D. in Madras University.
Mr. Thomas Thomas (Thomachan) Mappilaparambil
Thomachan, the youngest of the six children of Thommachan and Aleykkutty, was born on … 1958. After his High School, he did his Diploma studies in Mechanics. He started his own taxi jeep service. After a few years he abandoned it. Presently he is in business. He lives at Kondukkala.
He married Ancy, daughter of Varghese and …. Njarukulathel on April 3, 1989. Thomachan and Ancy have two children: Elizabeth (Tincymol) and Thomas (Albin). Tincy is a Plus One student at De Paul Higher Secondary School, Nazrath Hill and Albin is in the fifth standard at De Paul English Medium School, Nazrath Hill, Kuravilangad.
*******************************************